Featured Interview
On Climate Action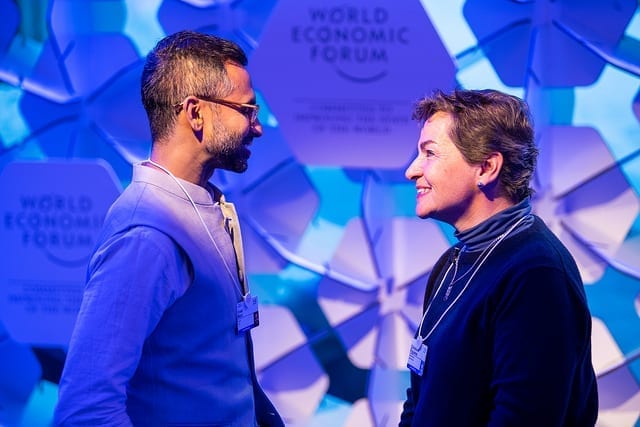 Christiana Figueres, CEO Global Optimism; Achim Steiner, Director of UNDP; and 
Brune Poirson, Secretary of State, Ministry of Ecology, Sustainable Development, Energy, France
The Future: Exponential Action on Climate Change and a New Deal with Nature
Visionary leaders share their insights in Davos 2019 on how to play our chess game with natura and climate forward in order that everyone wins, and together we thrive as a global society, living in harmony with one another and nature. Christiana Figueres (former executive secretary to the UNFCCC who was a seminal figure in advancing the Paris Climate Agreement) contends that we are in a race with climate change and nature has picked up the pace. We now have to double-down on our carbon emissions and across all industries- all sectors of society, and, all walks of life- exponentially decarbonizing our economies. Achim Steiner (Director of UNDP) stresses that we need to become more intelligent now re-designing a system- a new deal with nature that not only feeds and supports the 7.7 billion people on the planet, but that supports the life system of our planet. Brune Poirson (Secretary State- Ministry of Ecology, Sustainable Development, Energy, France) takes Achim's vision into a strategic discussion with me, asserting that we need to create a new society- one founded on new nature-based values with new ways of doing business- whose first consideration is what is best for nature and people.
CLICK GREEN PLAY BUTTON TO LISTEN TO PODCAST
Get Inspired
Visit Global Optimism to be part of a social movement that shifts our perspective on climate change from pessimism to optimism.
Calculate Footprint
This is the year that the international community is framing the New Deal with Nature. What is the deal you are making with nature? What's your global carbon footprint? #carbonfootprint #mynaturalintelligence
One Planet
Learn how President Macron's One Planet Challenge aims to speed up the global transition to a low-carbon economy through a platform of Commitments.
Deep Dive
The SDG Deep Dive Series illustrates how the 2030 agenda impacts development, revealing how countries and communities around the world are advancing the SDGs from paper to practice.
#mynaturalintelligence @UNDP