Featured Interview
Ocean Ambassadors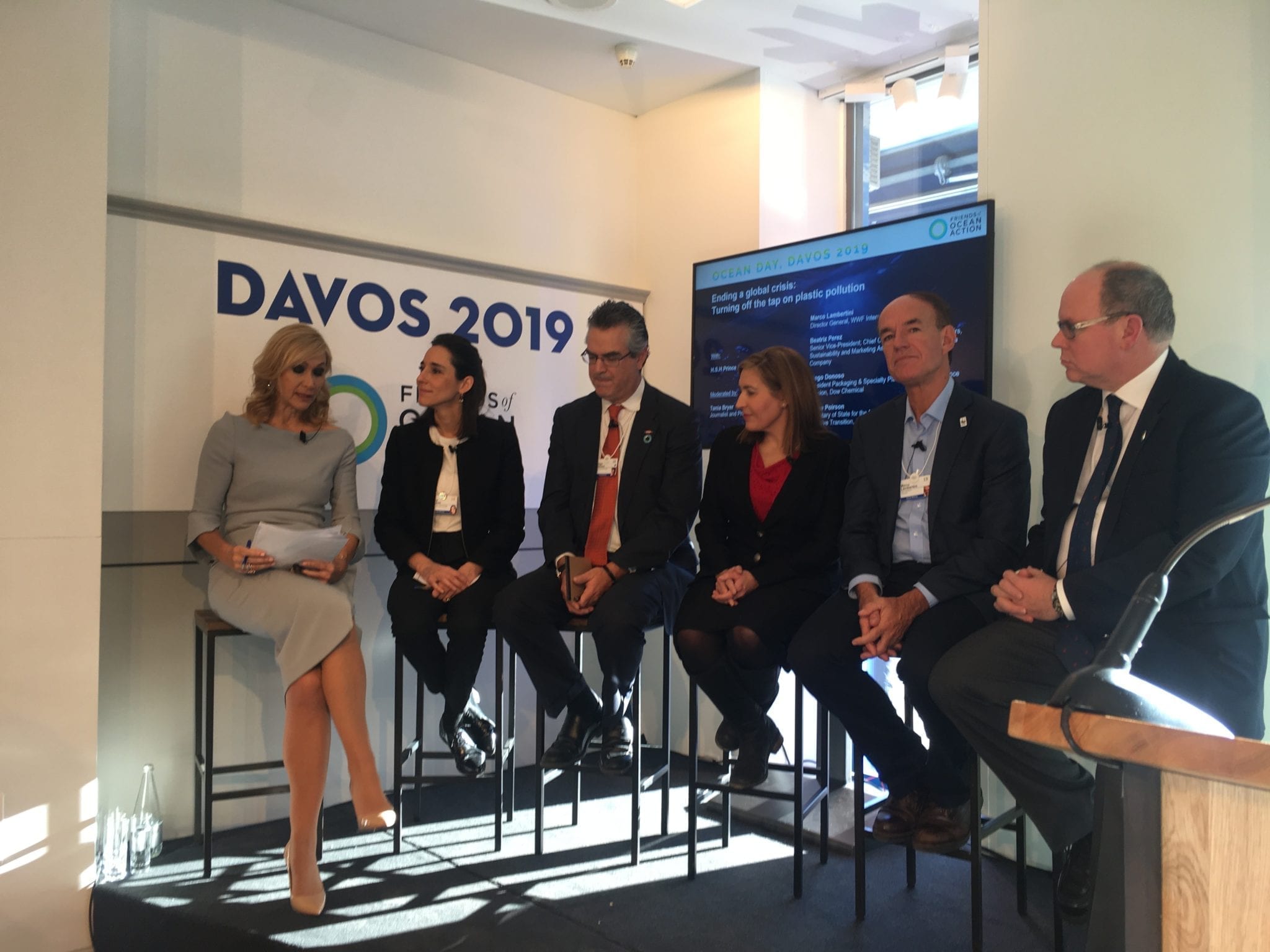 Marco Lambertini and Jim Leape, past and present Director Generals of WWF International
Marc Benioff, Chair of Salesforce and Founder of the Benioff Ocean Institute @UC Santa Barbara
Prince Albert II of Monoco, a Lifetime Ocean Advocate and Ambassador of the High Seas
Oceans Matter- Every Second Breath
This year the oceans have become a global priority. Governments are stepping up to support the blue economy… and invest in expanding marine protected areas, while reeling in illegal fishing operations. Canada, the host of the 2018 G7 Summit put oceans top of the list. World Economic Forum members have launched the Ocean Action Agenda.
The Friends of Ocean Action hosted an entire day of events and luminary panels on Ocean Day @ WEF with long committed ocean advocates like Prince Albert II and John Kerry, to restore the health of our seas and marine ecosystems, reaching already 40 million.
The newly formed Alliance to End Plastic Waste has already committed $1 B to end plastic waste. This alliance comprises 30 Fortune 100 companies with a vested interest in ocean health, including oil majors-shell, ExxonMobil and Total… and chemical companies, like Dow.
Historically, only 1% of Philanthropic capital has gone to ocean protection. But now, visionary leaders like Marc Benioff (Chair of Salesforce) and Prince Albert II of Monaco are leveraging their resources and network to bring more capital, technology, science-based solutions to the oceans. The NEW Benioff Ocean Institute is funding scientific exploration of the deepest, darkest challenges the ocean faces and open-sourcing-investing in entrepreneurial solutions.
Environmental protection groups- like WWF International, are teaming up with technology experts to utilize the best of drone, satellite and blockchain technology to clean up the fishing industry.
CLICK GREEN PLAY BUTTON TO LISTEN TO PODCAST
Benioff Ocean Institute
The pulse of the ocean is getting weaker. Together, we can revive it. Ocean problems and ocean solutions welcome from anyone, anywhere in the world. The ocean is speaking. Can you hear her?
Prince Albert II of Monoco Foundation
Science Advances: Prince Albert of Monoco's Foundation has 100+partners, 470+projects funded, 55 million euro in grants awarded. Be part of the solution. #worldoceansday @oceansdavos #newdealfornature @NIWpodcast 
World Ocean Day
Take Action on World Ocean Day: Create and post an activity. Why not a beach clean up with friends? Ocean aquariums, sea-goers, sailors, surfers, divers, ocean lovers unite.  #togetherwecan  #worldoceansday 
@UNEnvironment @WWFIntl